"Mini-OTEC"; Plant Simulator for Temperature Difference Power Generation
Our "Mini-OTEC" simulator has received favorable reviews as a tool for promotion and education of the power generation methods for hot spring and OTEC as the simulator recreates the conditions in the plant despite the compact size.
Please contact us for queries about customization, such as adding desalination demonstrating equipment to fit your needs and budget.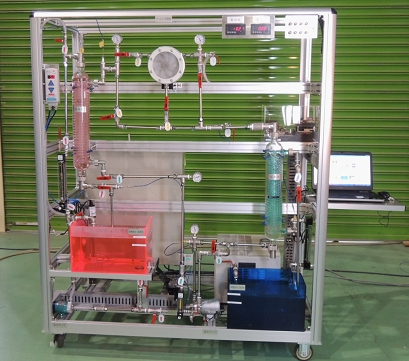 Specifications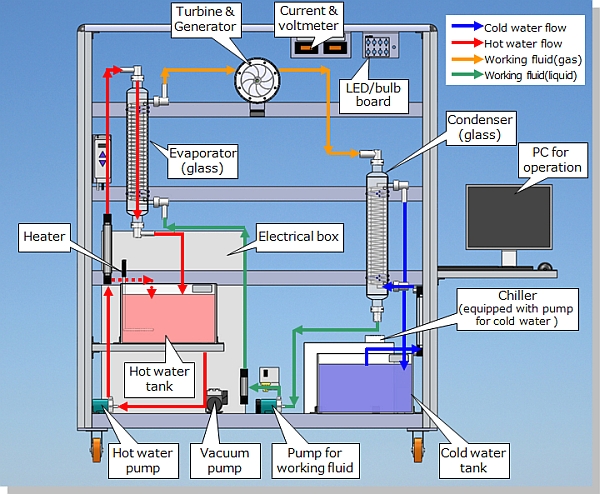 ■Size: Width 2,000mm (Including PC table) x Depth 800mm x Height 1,750mm
■Weight: approx. 250Kg (empty weight)
■Power source: 2 power supply of AC100V-50/60Hz-1kVA are required during the operation.
■Power equipment:
Chiller                  500W
Heater                  1000W
Pump for hot water           15W
Pump for working fluid        30W
Instrumentation devices (in total): 450W
-------------------------------------------------
Total Approx.              2kW
 *No need to refill water constantly since hot water and cold water are circulated.
 *PC for operation: Optional
Please note that the actual product might be slightly different from the picture and specifications shown on this website according to the availability of equipment, etc.
Characteristics
| | |
| --- | --- |
| | 1. The model is an easy to understand representation of the principals of renewable energy that use heat energy from the sun stored in ocean, and low temperature heat sources such as hot spring water. |
| | 2. The model can reenact actual power generation by preparing hot and cold water for the system. |
| | 3. The main components of the system such as the heat exchanger and turbine, are made with transparent materials so that the evaporation and condensation of working fluid can be seen. |
| | 4. Generated electricity is confirmed through the use of current and voltmeters. The load can be switched at the LED/Blub Board. You can also demonstrate power generation by connecting an LED lit diorama. |