All-welded Plate Type Heat Exchanger"XP Series"
All-welded Plate Type Heat Exchanger"XP Series"
Heat exchangers are the heart of OTEC power generation systems. We have developed and commercialized a series of all-welded (fully-welded) plate type heat exchanger (PHE) named as Xenesys Plate (XP) Series, suitable for OTEC and other low-temperature power generation systems using low temperature difference.
These XP series PHE demonstrates superior characteristics over other heat exchangers, not only in power generation purposes but also various industrial uses.
Low Pressure Loss / High Heat Transfer Efficiency
XP Series PHE achieves superior performances in low pressure loss and high heat transfer efficiency, due to their plate pattern and product structures.
We have achieved low pressure loss by reducing the turbulence, which hinders the heat transfer.
Thus, low pressure loss allows higher velocity of fluid, in general, which also results in high heat transfer performance and reduction of heat transfer area.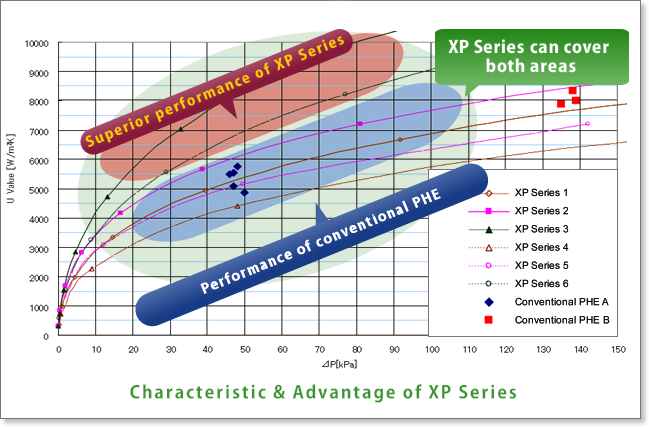 Compactness and Space Saving
XP Series PHE is more compact and installed in the smaller area compared to other heat exchanger, such as gasket type PHE or Shell and Tube type, under the same conditions.
Especially, it makes possible to save the installation spacing if XP Series PHE is installed instead of Shell and Tube type heat exchanger.
Common Design Conditions
Size comparison in water(cooling water)/water(seawater) application
Higher temperature side (fresh water) : 41℃→35℃ 3300㎥/h
Lower temperature side (seawater) : 36℃←30℃ 3300㎥/h
Pressure loss :80kPa 
Exchange heat duty  :23MW
Heat Transfer Area and Installed Space
| Item | Unit | XP Series PHE | Conventional PHE | S&T |
| --- | --- | --- | --- | --- |
| U Value | W/m2K | 10500 | Approx. 4200 | Approx. 2300 |
| Heat transfer area | m2 | 440 | Approx. 100 | Approx. 2000 |
| Installation area | m2 | 4.3 | 8.3 | 30 |
| Volume | m3 | 11.2 | 30 | 94 |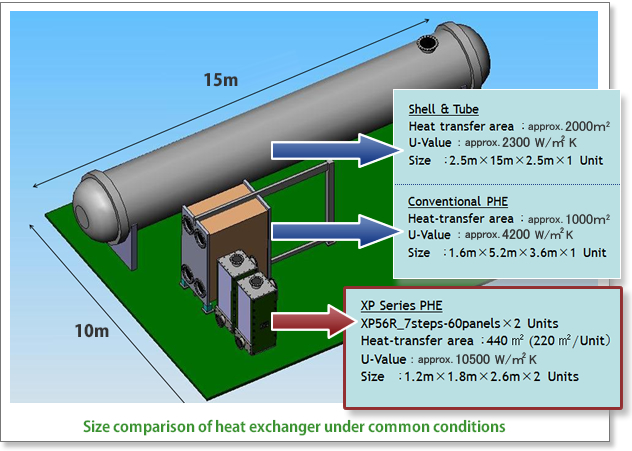 All-Welded Type
All-welded (Fully-welded) structure ensures no leakage of liquid, gas, or any fluids even under high pressure conditions.

Comparing with the gasket type PHEs, maintenance cost associated with gasket replacement can be significantly reduced, due to its welded structure.
Small size PHE : Maximum test pressure 30 to 50 MPa

Large size PHE : Maximum test pressure 10 to 30 MPa
Size of XP Series
Our patented technologies enable to manufacture different sizes, from small to large, of various heat transfer plates and their heat exchangers by the installed manufacturing facilities.
Length of the plate : 0.3m to 2.4m

Width of the plate : 0.74m

Heat transfer area : 1.4m2 to maximum 1000m2/unit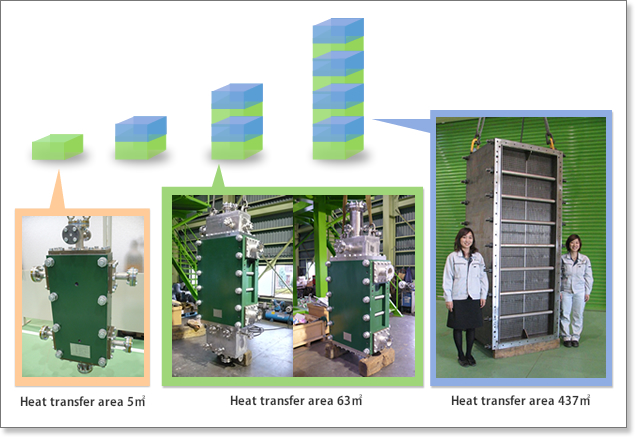 Applications
With its various patterns of heat transfer plate, XP Series can be effectively applied to not only water to water uses often seen in industrial applications but also demonstrate higher performance under the conditions accompanying phase change such as evaporation and condensation in OTEC or power generation systems utilizing industrial waste heat.
Fluid
・Ammonia, Ammonia - water mixture (liquid, gas)

・Steam, seawater, freshwater

・Other fluids (lubricant oil, corrosive fluid, alkaline fluid, fluorine-based refrigerants, etc.)
Applications (examples)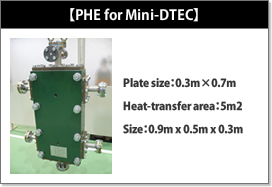 ・Evaporator and condenser of power generation system using low temperature difference such as OTEC, DTEC, or Mini-DTEC

・Lubricant oil, cooling water cooler

・Condenser for chemical plants

・CO2 capture and storage plant (heat recovery and cooling of amine fluid)

・Ammonia-related processes

・Regional cooling and heating (energy saving by reduction of electricity consumptions by pumps, due to lower pressure losses of heat exchangers at the demand sides)

・Refrigerator

・Regenerator in heat pumps or power generation process
Materials
SUS316L、SUS304L、Titanium (Gr.1&Gr.2), etc
Quality Control / Test / Inspection
For their manufacturing and quality control, XP Series PHE is complied with various regulations and standards, depending on applications and requirements of the clients.
・ASME U-Stamp (International)

・Electric Business Law (Welding Business Inspection) (Japan)

・Internal Quality Control : ISO9001


We can propose most suitable XP series products to the clients' needs and required conditions of the site. Please go to the link below, fill in the design condition parameters of the project/site and send it to us. We will respond to you as swiftly as possible.