All-welded Plate Type Heat Exchanger"XP Series"
XP Series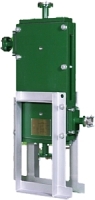 XP Series are all-welded plate type heat exchanger.
 It is compact comparing with shell & tube type and endures high pressure comparing
 with gasket type PHE.
 No need for complicated gasket replacement work between the plates.
 It is developed and commercialized applying for the knowledge and technique skilled
 by research and development of Ocean Thermal Energy Conversion system.
 It can be applied to not only power generation use but also various industrial uses.
Characteristics
Low Pressure Loss / High Heat Transfer Efficiency

XP Series achieved low pressure loss, due to plate pattern and structure to decrease the unnecessary flow turbulence that does not relate with heat transfer performance. Thus, it enables to apply to high flow velocity, and furthermore, down-size the heat transfer area by high heat transfer performance.

Space Saving

XP series are remarkably compact and saves installation space compared to shell & tube type and gasket type PHE. (Under the same operating conditions) Compared to shell & tube type, performance will advance remarkably, so it is not only space saving but also number of heat exchangers needed will be reduced drastically in some cases. In that case, construction cost and facility maintenance cost will be reduced drastically.


High Pressure Resistance and Maintenance

All-welded (Fully-welded) structure ensures no leakage of liquid, gas, or any fluids even under high pressure conditions such as 4MPa. The maintenance cost associated with gasket replacement can be reduced significantly, for gaskets are not used between the plates in our PHEs. To clean inside of our PHEs, we offer to use CIP equipment and special chemical solution.

Others

 ・High flexibility in plate size
  We can offer different sizes, from small to large, of various heat transfer plates, by means of our patented press
  technology.

 ・ Pinch temperature is small
  Compared with tube & shell type, pinch temperature is low. Profitability will improve by the increase of amount
  of evaporation and condensation and the increase of the production such as chemicals, under the same operating
  conditions

 ・ Downsizing the pumps
  Pressure loss is about 2/3 of that of conventional PHE, so it is possible to downsize and reduce the volume
  of adopting pump.

 ・ Services for designing and evaluation
  We can offer technical services such as performance confirmation test, simulating special circumstances.
  Please do not hesitate to consult us.
Applications
Use Condition
 Temp. Condition : −30 ~ 300ºC
 Max. operating pressure : 4MPa
 Max. attainment pressure : 30~40MPa
Materials
 Pure titanium(Gr.1&Gr.2) etc
 SUS316L
 SUS304L
Delivery Record
 A certain steel plant 
  ・Crude light oil condensing process
  ・Normalizing process coolant water cooler
  ・Power generation process coolant water seawater cooler  
  ・Heat recovery of CO2 recovery plant
 Ocean Thermal Energy Conversion facility (Kume Island, Okinawa Pref., Japan)
  ・Evaporator and condenser for power generation
 Various plant facilities
  ・Gas cooler (nitrogen mixture gas)
  ・Various cooler(antifreeze, effluent etc)
 Various research institutes
  ・Evaporator and condenser etc for power generation by temperature difference
Applications (examples)
 Condenser for oil refining plant fluid
 Cooler for lubricant oil, hydraulic oil etc.
 Various cooler and heater
 Various heat exchangers for fluid in chemical plants
 Evaporator and condenser of power generation system using temperature difference
 Heat exchanger for exhaust gas heat recovery
Quality Control / Test ・Inspection
 In manufacturing and quality control, XP series, which correspond to pressure vessel, are possible to comply to various

 law and regulations and technical standards, in response to the clients' needs.
  ・ASME U-Stamp (International)

  ・Electric Business Law (Welding Business Inspection) (Japan)

  ・Internal Quality Control : ISO9001
  



We can propose most suitable XP series to the clients' needs and required conditions of the site. Please go to the link below, fill in the design condition parameters of the project/site and send it to us. We will respond to you as swiftly as possible.